Play • Stay • Enjoy • Live • Grow
Play, Stay, Enjoy, Live, and Grow!
Play at one of our many attractions including the Lacey Recreational Complex, Urban Skate Park, or Arts Center.
Stay at one of our hotels, Airbnbs, or the McNeill Stone Mansion Bed & Breakfast. New options in 2022!
Enjoy our community's vibrant downtown square and attractions, including places to dine and shop.
Live in wide-open spaces—bike the 13-mile trail, go fishing, or golf all four courses in Mahaska County.
Grow your knowledge of Oskaloosa and Mahaska County by visiting!
Play! Have fun competitively or creatively.
Play ball at Lacey Recreation Complex
Skate and Bike at the Urban Skate Park
Get creative at FACE (Fine Arts & Cultural Events) of Mahaska County
Stay a while at a B&B, hotel, or Airbnb.
Bed and breakfast:
Hotels & Motels:
Airbnbs:
Enjoy our vibrant downtown and community.
Mahaska County Dine & Drinks

Enjoy Oskaloosa Main Street and unique shopping in the historic downtown.
Enjoy dining downtown and around Oskaloosa.
Downtown Dining:
Dine in Penn Central Mall
Dine around Oskaloosa:
Shop in Oskaloosa and around Mahaska County:
Mahaska County Shopping
Live in the wide-open spaces of Mahaska County.
Walk or bike the 13-mile recreation trail.
Go fishing, camping, or hiking in a county park.
Golf all the courses: Edmundson, Oskaloosa Public, Harvest Point.
Grow your knowledge of Oskaloosa!
Visit Oskaloosa and Mahaska County, click the button below for a list of family-friendly activities!
Questions? Reach out to Mahaska Chamber at 641-672-2591.
Explore Our Visitor Guide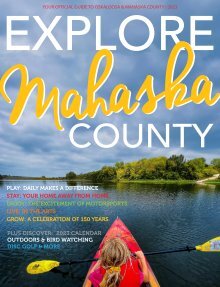 Tell Us About Your Stay!