Events & Programs
Sweet Corn Serenade
Oskaloosa Main Street's annual Sweet Corn Serenade brings 3,000 people to downtown Oskaloosa for fresh-cooked sweet corn and live music. This year's festival will happen July 27 from 12-9 PM, and will include a craft and vendor fair, food trucks, children's activities, and more! Sweet Corn Serenade will take place in Oskaloosa's City Square Park. The rain location is Penn Central Mall.
More 2023 Information Coming Soon!
Craft + Vendor Fair
Volunteers Needed
Volunteers are needed to make this year's event a success! Looking to join?
Coloring Contest!
Children's coloring contest is back! Age divisions are 3-5, 6-8, 9-11, 12-14. Prizes will be awarded to winners and available for pick up at the Chamber office. Entries are due by 5 PM on Friday, July 28 to the Chamber office. Click here to download the coloring sheet. Submit to the Mahaska Chamber office or by 5pm on Friday, July 28!
Let's Eat!
Burgers, Sweet Corn, Pie, & Drinks will be served from 4:00 p.m. until it runs out.
Costs:
- Meal (hamburger, corn, drink) - $8.00
- Pie only - $2.00 Served at Pie Only Tent
- Extra Corn - $1.00 Served at Extra Corn Tent
Hamburgers grilled by Mahaska County Cattlemen's Association.
Pie options: Apple
Drink options: Pepsi, Diet Pepsi, Mt. Dew, Root Beer, & Bottled Water

Food Vendors will be set up around the Square
Barnyard Tenderloin Express
Chick A Bock Chicken Bowls
Eatery Island
Fat Cow Creamery
Grubby's Kettle Korn
Honeybee Camper
My Eatzz
Sno Biz - shaved ice & frozen treats
Tacos Jalisco
Musical Entertainment


For the Kids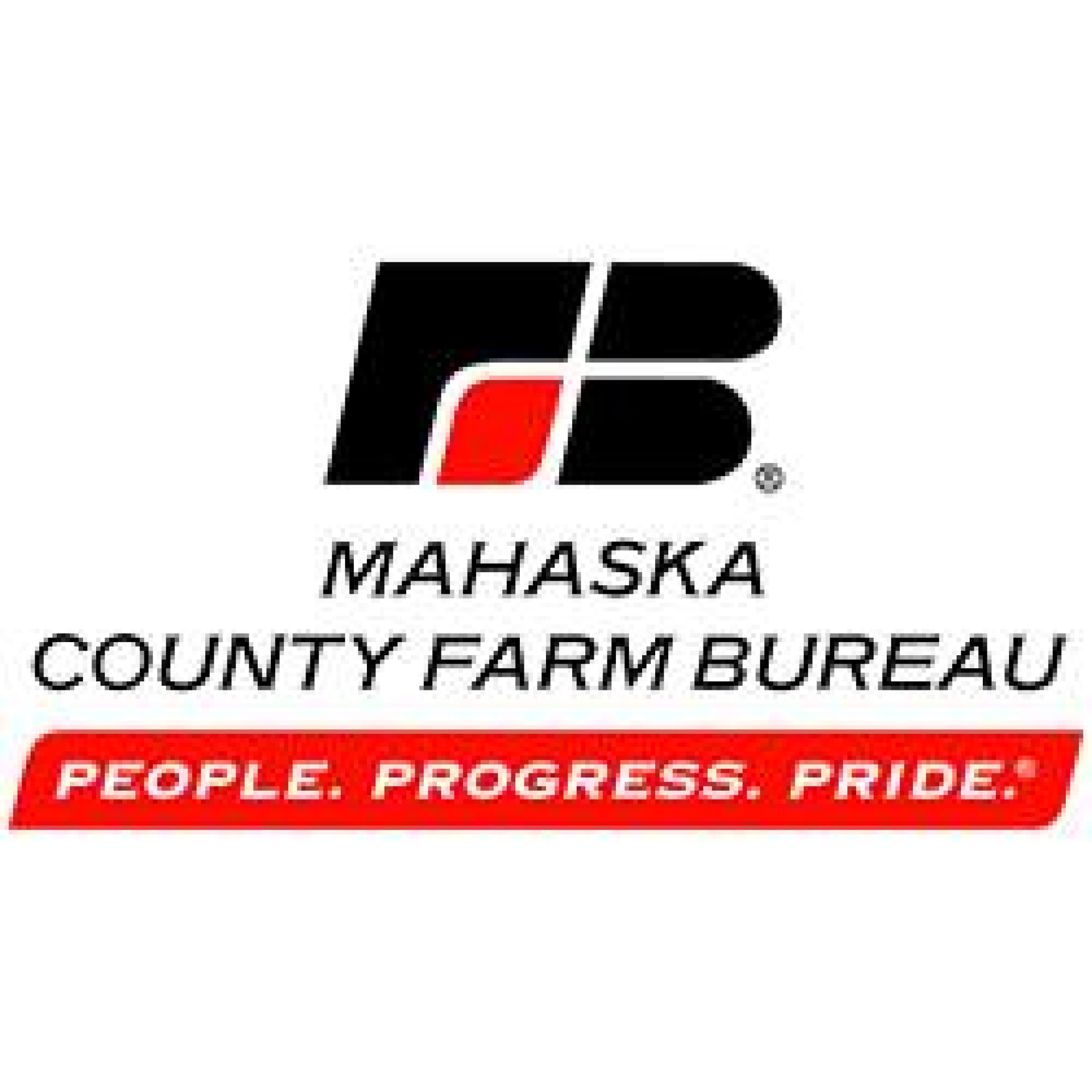 Farm Bureau's Activity Zone, open 5-8 PM
Ag in the Classroom table
Petting Zoo
Face painting
Iowa Corn trailer
NRCS Soil Tunnel
Corn Pit
Photo (face cut-out) Board

Ohana Pedal Pull - register at 5:30 PM, starts at 6:00 PM.
Located on High Avenue. Open to any child age 4-11, will follow state sanctions.
StoryWalk® provided by Iowa State University Extension and Outreach - Mahaska County (on Square)
Go on a short walk and read "How Did That Get in My Lunchbox?" by Chris Butterworth between 5-8 PM.
Red Rock Threshers Tractor Teeter Totter - available 5-8 PM
Located on High Avenue near Courthouse. Can they do it?! Local tractor enthusiasts will try to get their tractors to balance on the teeter totter - this one is a crowd pleaser!
Red Rock Threshers Tractor Wagon Rides - available 5-8 PM
Take a unique ride down High Avenue East in a wagon pulled by a tractor! Line will form between the Courthouse and Law Enforcement Center (alley). Children must be accompanied by an adult.
Coloring Area - available all day at the Farm Bureau table.
Map of Event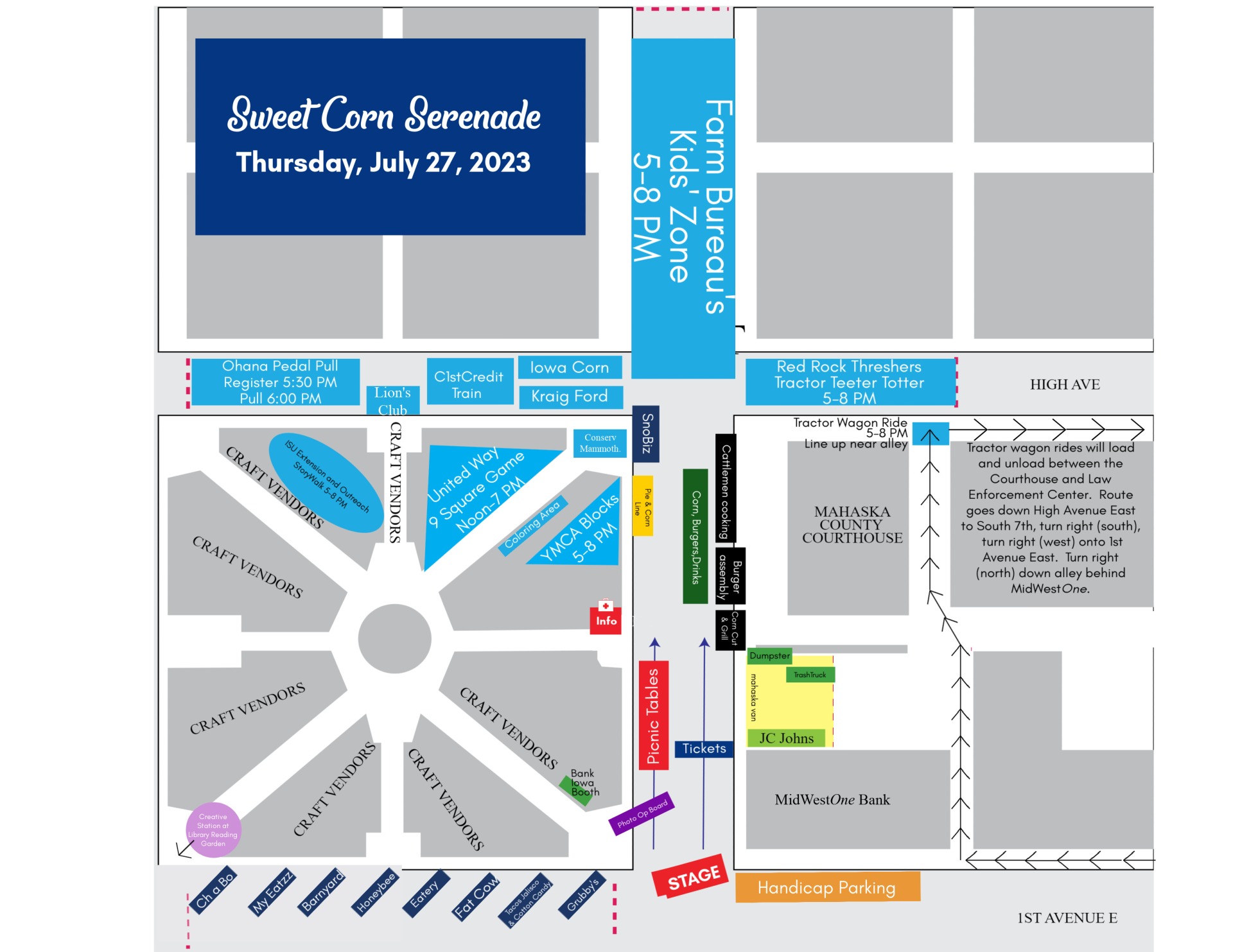 Parking
High Avenue East, South 1st Street, and 1st Avenue East surrounding City Square Park will be closed for event activities. Street parking will be available along South Market Street, in the Penn Central Mall parking lots, nearby street parking (including 1st Avenue East between True Value & MidWestOne Bank and farther east - this is the best option for handicap parking making it less than half a block from the stage and food), and in the American Legion Post 34 parking lot. Please be aware of local street projects that may cause temporary street closures in the area.
Creative Stations & Other Main Street District Happenings
Smokey Row - Lotus drink station located in front of the building. Create your own drink!
Oskaloosa Public Library - Craft available and photo op station in the Big Red Chair at the Reading Garden. 12pm-6pm
Lion's Club - Free Popcorn and Spin Art
United Way of Mahaska County will offer a 9-square game in City Square Park (northeast corner lawn) from 12pm-7:00 pm. FREE
YMCA's Imagination Blocks 5pm-8pm
THANK YOU TO OUR EVENT SPONSORS:
Ajinomoto
American Family Insurance, Kristi Tarr Agency
Bank Iowa
Cargill
Clow Valve Company
Corteva Agriscience
DuraCrop
Farm Credit Services of America
Hy-Vee
Imagine the Possibilities
Kraig Ford
Mahaska Drug
Mahaska Communication Group
McKim Tractor Service
MidWest One Bank
Musco
Oskaloosa Schools
Oskaloosa Vision Center
ServPro
Twin Cedars Bank
Town Square Dental Care
TruBank
Wood Iron Grille
Thank you to the following businesses for donating supplies & prizes:
Brown's Shoe Fit - Oskaloosa
Fareway - Oskaloosa
Hy-Vee - Oskaloosa
mahaska - Oskaloosa
Sno Biz - Oskaloosa
Ohana Pedal Pull Sponsors:
Corteva Agriscience
Duracrop
Farm Credit Services of America
McKim Tractor Service