Centennial Block Building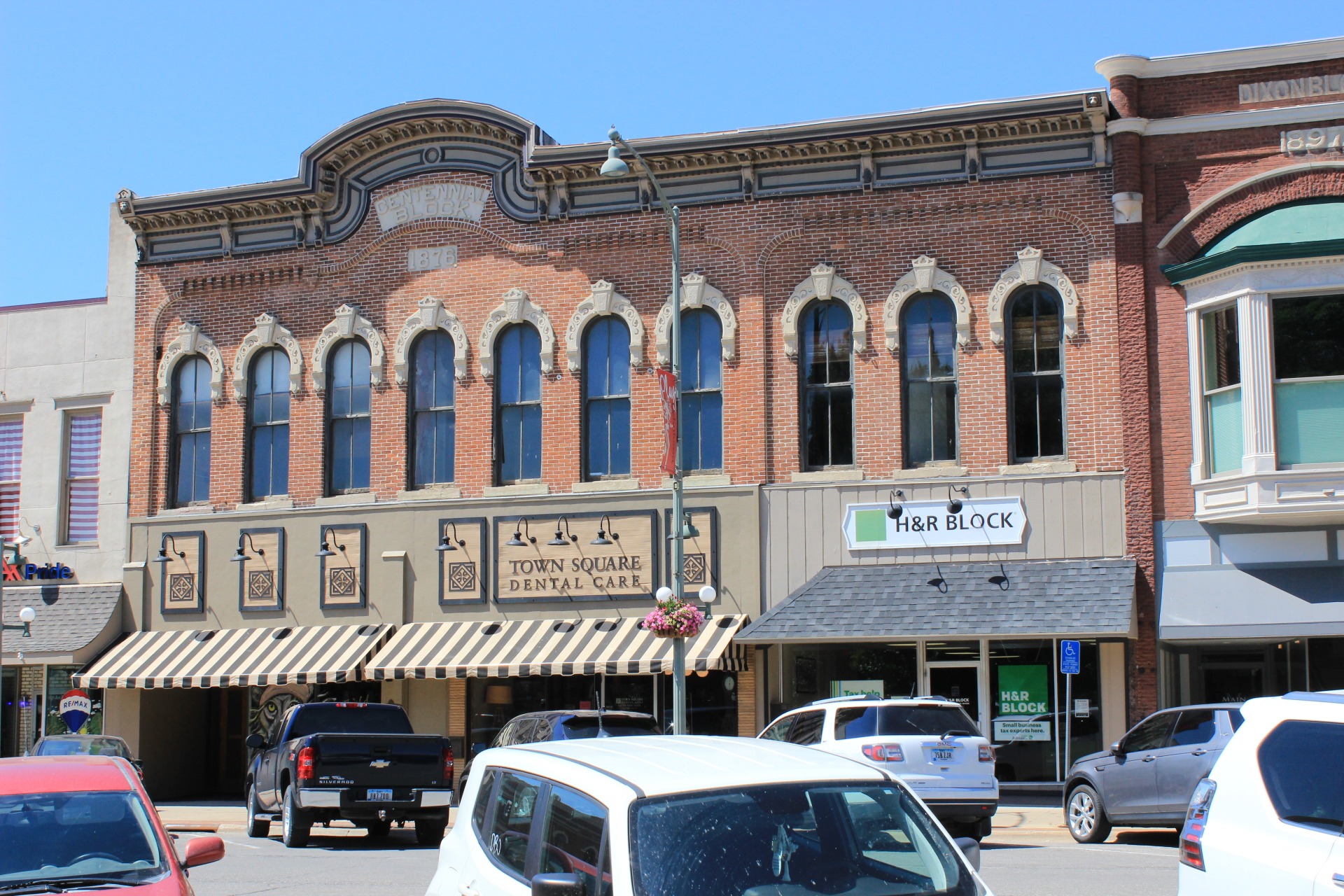 The Centennial Block was constructed in 1876 by Isaiah Frankel and originally owned by Frankel, Richard Parker, and Christian Houte.
Key Information
Year Built: 1876
Location: 105 High Avenue East
Current Tenant: Town Square Dental Center
Architecture Style: Italianate
Architecture
The Centennial Block was constructed in 1876 by Isaiah Frankel and originally owned by Frankel, Richard Parker, and Christian Houte.
The block houses three brick facades. The bracketed cornice, with central arched pediment, signify that this is an example of the maturing Italianate style. The pediment, shared between the two westernmost facades, seems to be derived from the Baroque era.
Stone window hoodmolds are arched with raised keystones and ornate carving. "Leather", "Trunks", and "Harness" appear in palimpsest as vertically painted words between the windows in the center facade.
The easternmost facade does not share the central pediment. Some window hoodmolds have rounded arches with raised keystones and ornate carving.
Each of the three facades received new storefronts: the center before 1971 and the easternmost in 1983 along with a new fixed canopy.
(NHRP Application, 78-83)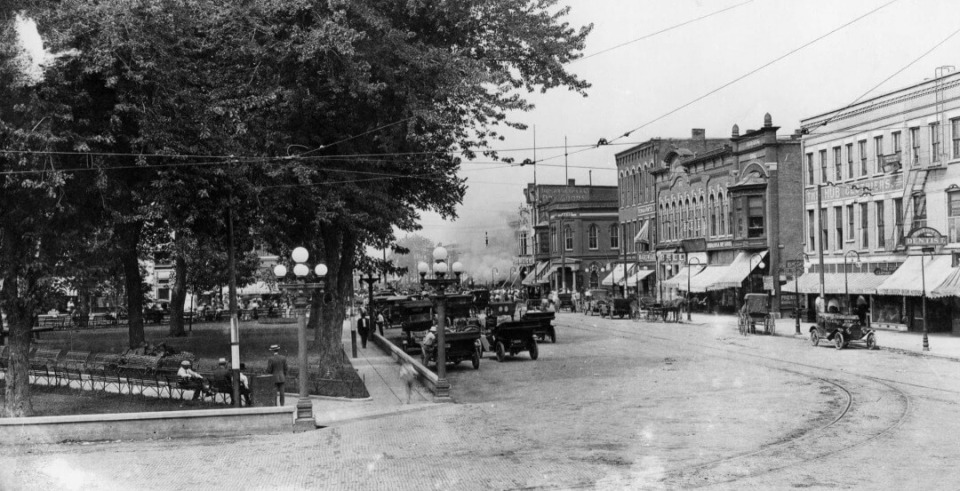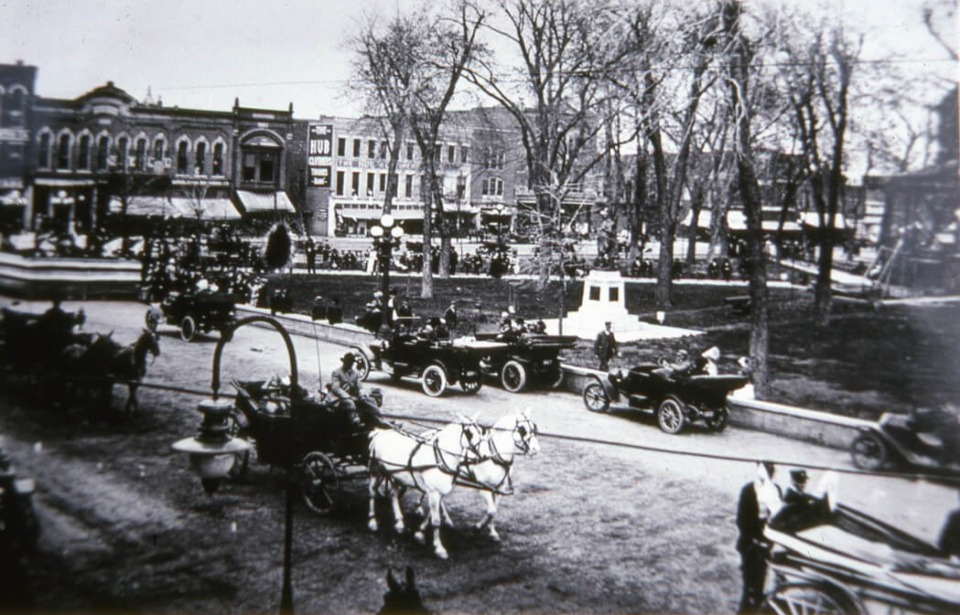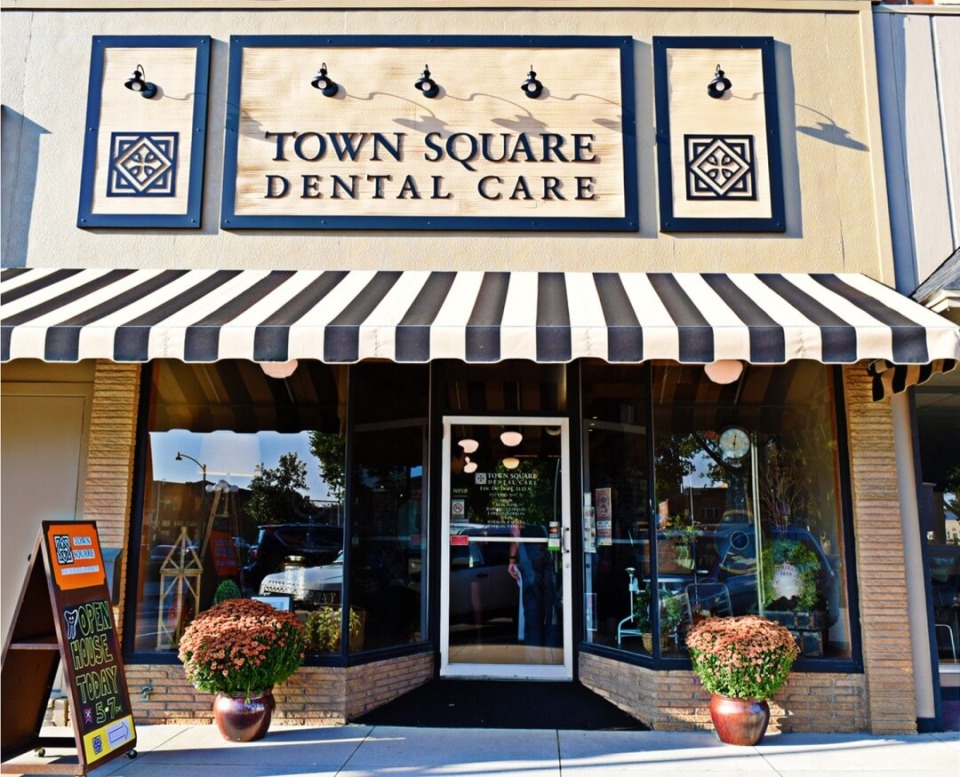 History
Built in 1876 and named for 100 year nation anniversary (also was the year of Custer's Last Stand).
Oskaloosa Herald, April 27, 1876 "the building next to the City Hall will be Frankel, Bach and Co bank building, neat, comfortable and elegantly furnished…. Will have heavy vault, of course, and whole will be fitted up in an elegant style."
Basement of 105 was excavated to raise the basement ceiling, it was believed to hang tobacco to make cigars when Fritch and Himes occupied it. Old cigar posters are seen today in the basement. Fritch and Himes was a popular pool hall occupied for 43 years. Sold to Seiferts, women's clothing for 29 years. Then occupied for 30 years by Adams Photography (1986-2006) and Town Square Dental now occupies it.
Centennial Block Chain of Ownership
107 High Ave. East was built by Richard Parker in 1876 and occupied by I Frankel Clothiers until 1889 when they built the Frankel building. It was painted chartreuse in August 1992 which caused a local stir and made the front page of The Des Moines Register, "California Colors in Iowa". Oskaloosa residents worried that the paint choice was not in line with historical preservation and it also covered up historical old signs that were painted on the building.
No cause was determined for a fire in the building in 1993 and it was sold to G. Andreini of Norwalk, with the agreement the new owners would have facade rehabilitation done and the two neighbors (of the original building) would also cooperate in doing facade rehabilitation on their part of the building. It then was sold to local residents for $6000 plus back taxes and soon sold to a real estate agent before local dentist Dr. Eric De Boef purchased it.
The green building situation caused much controversy among local citizens and even was used by one historical organization as an example of "what not to do in historical districts". It also prompted a local ordinance, affectionately referred to "The Green Building Ordinance", which is still in effect today that assures businesses must apply for a certificate of appropriateness to make changes to the buildings.
The Green Building Scandal
In the fall of 1992, the owner of the center bay of the Centennial Building opted to paint his storefront an interesting shade. The following photos and articles recount the community's response to what has come to be known as the "Green Building Scandal."
Click any of the images below to enlarge.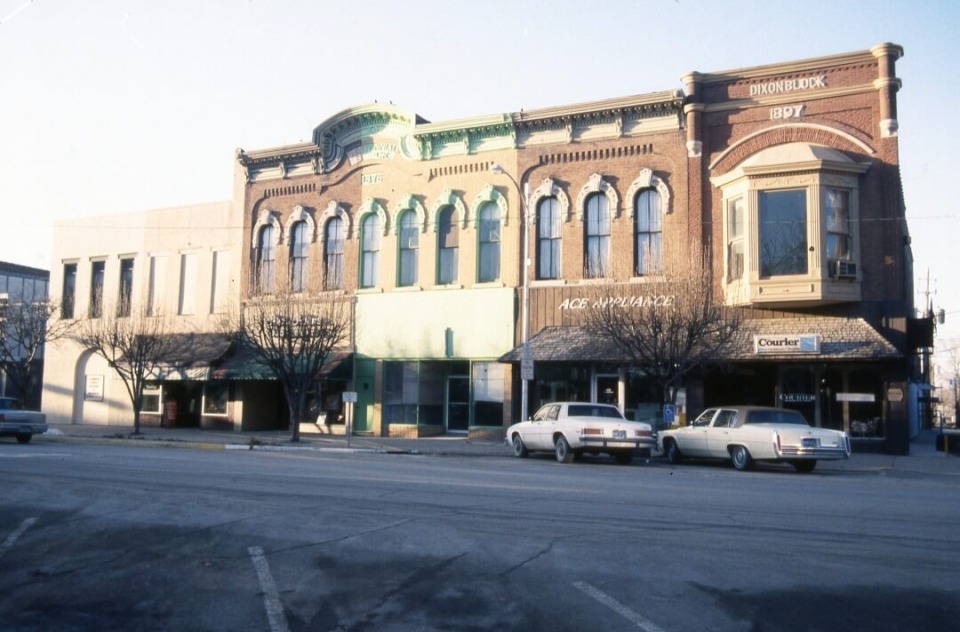 Tennant History
1876
105 HAE: I. Frankel Bank
1889
105 HAE: I. Frankel Bank, J.O. Malcom Attorney, C. Phelps Insurance
107 HAE: Lafferty & Kissick, Attorneys; Carroll & Davis, Attourneys
109 HAE: J.W. Morgan (Drugs); C.H. Lee (Tailor)
1902
105 HAE: I. Frankel Bank, Push Bros. Real Estate, Dr. J.B. Muir
107 HAE: Trunk & Harness Store (Name Unknown); E.D. Reid, Attorney
109 HAE: H.R. Evans (Drugs, Paints); Carver & Woodster (Attorneys)
1911
105 HAE: I. Frankel Bank
107 HAE: The Belle (Clothing)
109 HAE: Oskaloosa Dry Goods
1914-1915
105 HAE: Brunswick Billiard Parlor
1918
105 HAE: Fitch and Himes Cigar Store
1925
105 HAE: Fitch-Himes (Billiards)
107 HAE: C.Y. Shirts (Clothing)
109 HAE: Pete's Candy Shop
1936
105 HAE: Fitch-Himes (Billiards)
107 HAE: Vacant; Dr. P.M. Day
109 HAE: Pete's Candy Shop
1954
105 HAE: Fitch-Himes & Co. (Tobacco)
107 HAE: Spurgeon Mercantile Co. (Department Store)
109 HAE: Upton & Colville Firestone Store (Auto Parts); S&H Green Stamps (Basement)
1956
105 HAE:Sieferts (women's clothing)
1985
105 HAE: Sieferts
107 HAE: World of Fabrics
109 HAE: Ace Appliances
1986
105 HAE: Adam's Photography
2016
105 - 107 HAE: Town Square Dental Care
109 HAE: H&R Block (Taxes)