Blog
William Penn University: A Celebration of 150 Years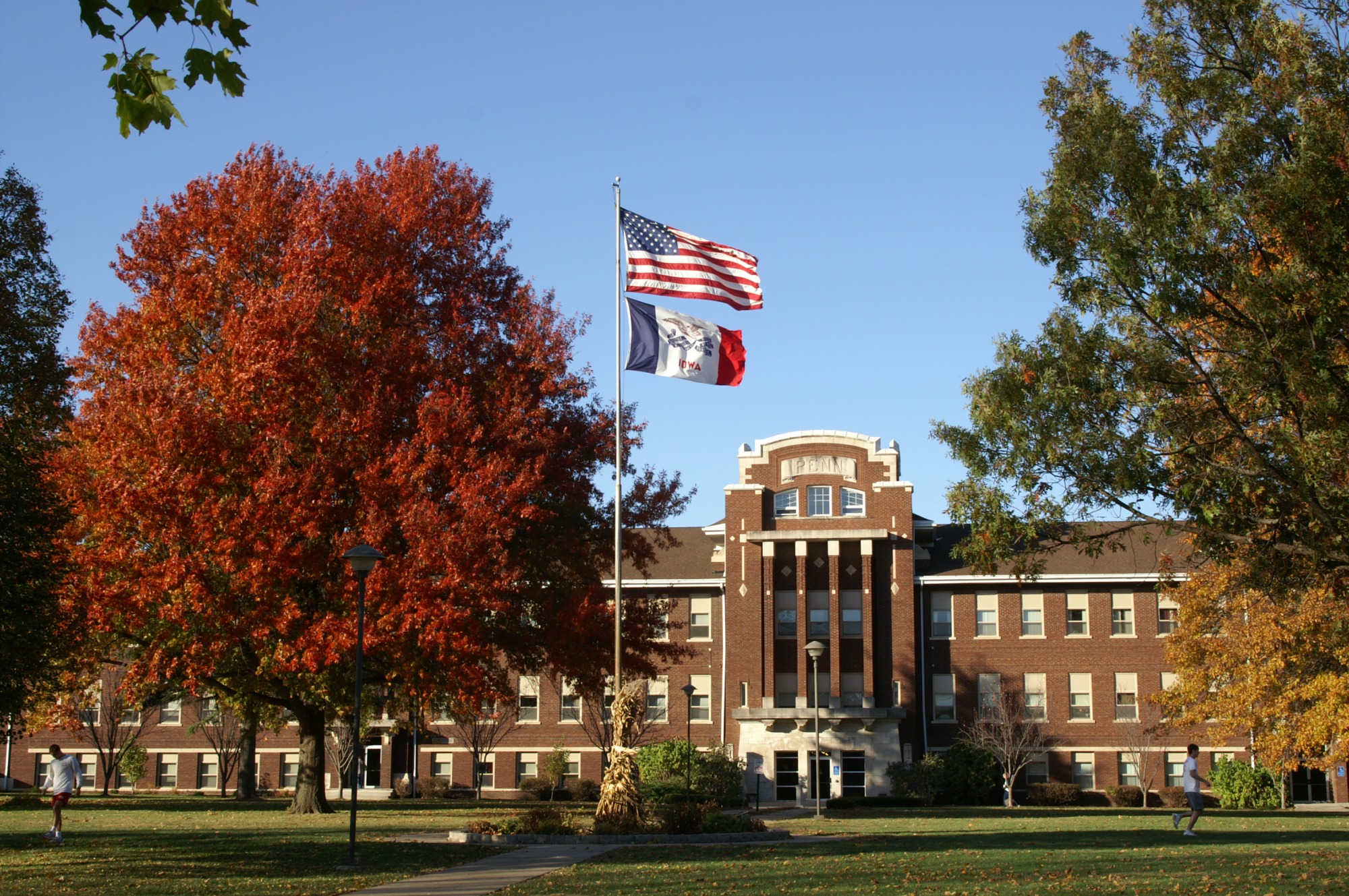 The founding of Penn College was led by the Society of Friends united in the purpose of creating a Christian Liberal Arts College to offer broad religious and cultural education to youth and any others who wished to take advantage of the college program. Established when times were uncertain, money was hard to get, and the future looked dark. Yet in those trying times there were those who said, "We must go forward."
Old Main housed Penn College for 43 years. Classes began in 1873 with the first graduate in 1875. This building was the main structure on the college campus until tragically destroyed by a fire. Penn Hall was built a few blocks north of the original college location in 1916. Classrooms and administrative offices constructed in prairie-style architecture began functioning in September 1917. Today, Penn Hall is the heart of the Oskaloosa campus.
A few memorable dates in Penn history: the first football team was in 1891, the first basketball team was in 1900, and the first May Day Celebration was in 1901. May Day was celebrated with plays, May Pole dances, King and Queen of May Day, and picnics. The first Penn Letter Club was organized in 1913 and the first Homecoming was held the same year. Penn College gained North Central Accreditation (NCA) in 1916.
The Women's Residence Building, Lewis Hall, at the time of construction in 1916-1917 was far superior to most college dormitories. The four "cottages" were named in honor of famous Quaker women: Margaret Fell, Elizabeth Fry, Mary Dyer and Sybil Jones.
The cornerstone for Spencer Memorial Chapel was laid in October 1921. Given by Mary Spencer, in memory of her late husband, Harry L. Spencer, a successful, local businessman; they both believed that those who prosper in a community should contribute to its life and progress. Spencer Chapel has served many purposes over the years. The Chapel has housed spiritual gatherings, musical/theatrical performances, community events, and other student activities. It once housed a skating rink, a two-lane bowling alley, the campus bookstore and a small café for students. Closed since 1995 for renovations, the Chapel still stands proudly as the cornerstone of campus.
Having a setback in 1931, Penn College lost its NCA accreditation. In 1933 Penn College became William Penn College. Leading the charge, Dr. Donald Schultze, Dean and Head of the Education department, devoted his energies and abilities towards NCA accreditation and National Association of Colleges for Teacher Education (NCATE). NCA accreditation membership was regained in 1960, Penn received NCATE accreditation for its teacher education program in 1965, putting William Penn in a position for growth. Highlights of the growth include;
• Gift from Mrs. SC Peasley, given in memory of her husband who attended Penn College in 1881-82, enabled Penn to purchase the Gibbs house (1945) and the farm of over 300 acres (1947). Peasley Hall became first men's dormitory (1945), then converted to the Fine Arts Department in 1959. Peasley Farm was operated as a dairy by the college.
• Gymnasium was built by mid-year 1956-57
• In 1961, building dormitory housing for men began. The first unit of Watson Hall was built and in use by September 1962, the second unit was completed in 1963.
• Gift from Dr. Edgar (1900 graduate) & Mrs. Wilcox, the first phase of the new library was completed.
• Opened in the Fall of 1966, the Student Center, now known as Dana Atkins Memorial Union, provided a college activity center, bookstore, health center and dining hall.
• East Men's Dormitory, now Eltse Hall, was built and in use by mid-year of 1966-67, named after Ralph Eltse (1909 graduate).
• Groundbreaking for Edwin McGrew Fine Arts Center took place on May 21, 1973. The facility includes an art studio/classroom, a recital hall and choir/band room.
From a generous donation by Willard (1921 graduate) and Edith Ware, the board approved their desire to name the building after Edwin McGrew (1895 graduate). Ware Recital Hall, was named following a generous gift by Edith Ware in memory of her husband.
In 2000, William Penn College became William Penn University and the face of William Penn began to change. It has been an exciting time. Enrollment increased when William Penn rejoined the NAIA allowing for athletic scholarships to be awarded to student-athletes. In February 2000, ground-breaking ceremony took place to build Twin Towers, a new residence hall.
A few years later a major, capital campaign was implemented to address the growing needs of the university. Through the generous support of the community and alumni, the following were added:
• Statesmen Community Stadium hosts over 100 athletic events for both the university and Oskaloosa Schools, annually. First game was played in fall 2011.
• A top-of-the-line soccer field was created on the west side of the stadium in 2015, named Drost Field after a generous gift from Carl (1969 graduate) and Martha Drost.
• Groundbreaking in 2008, Penn Activity Center (PAC) was the site for Commencement ceremony in 2009. The PAC is the hub of campus activities with indoor turf, basketball courts, volleyball and 300-meter track. In 2020-21 the Science Center was completed on the third floor. State-of-the-art classrooms and laboratories for biology, chemistry, nursing and more were open for students in fall 2021.
• Musco Technology Center (MTC), named for Musco's generous support to the project, houses Applied Technology and New Media academic divisions along with an atrium that is host to numerous campus and community events. The MTC and classrooms were in operation by 2009.
A good challenge to have, William Penn needed to add another residence hall to its campus to house the increase in student enrollment. Market Street, a 250 bed dormitory was open for students the spring of 2013.
In 2014, William Penn received the gift of Mahaska Bowl, now known as Statesmen Lanes and Event Center. This gift has been instrumental in the growth and success of the men's and women's bowling teams. Community league play still exists, and the high school teams make full use of the lanes, as well.
Community outreach became a purpose for William Penn not only for the citizens, but its students became engaged with community members and participated in activities. William Penn stands strong, despite the current ups and downs of higher education. William Penn has persevered and is poised to celebrate 150 years of progress. The leadership continues the fortitude of its founders saying, "We must go forward.