Blog
Nature Awaits – Dig in!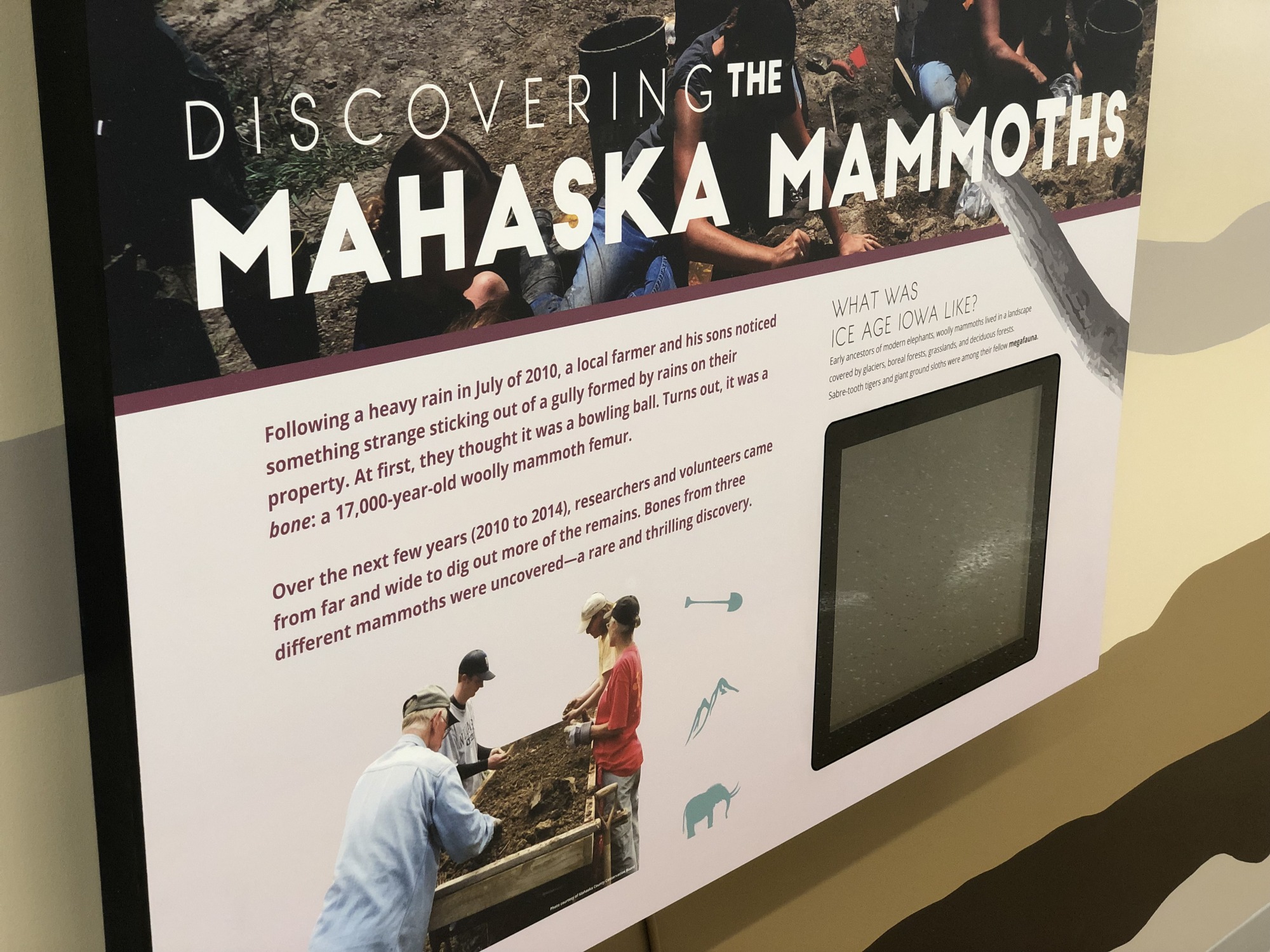 Did you know that 17,000 years ago during the Ice Age, woolly mammoths roamed Mahaska County? In 2010, a local Oskaloosa man and his sons unearthed part of a mammoth skeleton on their land. The discovery launched several years of bone excavations at the dig site. Now, Mahaska County Conservation is collaborating with the Communication Research Institute of William Penn University to re-create a full-size woolly mammoth that will be on display for visitors at the Environmental Learning Center.

The Environmental Learning Center at Caldwell Park, which opened in 2019, is conveniently located just outside Oskaloosa on Hwy 92 and connects to the Mahaska County Recreation Trail (see map on facing page). Visitors can see live animals, interactive displays about Mahaska County's history and ecosystems, and a 1,000-gallon fish aquarium. Mahaska County's Freedom Rock, which was designed and printed by artist Ray "Bubba" Sorensen II, is also located on the site. Weighing in at 23,600 pounds, it was the 39th rock to be painted in the state and depicts Mahaska County's military history including Oskaloosa's first member of the Women's Army Corps as well as several generals and admirals who served in the Civil War, WWI, WWII, and the Gulf War.

For added family fun, try a new outdoor recreational activity, such as geocaching. With GPA-enabled cell phones, your whole family can easily get in on the fun of hiding and seeking containers, called "geocaches" or "caches", at specific locations marked by coordinates all over the world— including near the Environmental Learning Center, along the recreation trail, and throughout Mahaska County. To get started, download the Geocaching® mobile app or visit geocaching.com.
As of January 2020, the ELC is open for scheduled programs and by appointment. Call the number below to schedule a visit.

Address:
2342 Hwy 92 East • Oskaloosa, Iowa

Get the latest info on hours, events, and programs:
mahaskaconservation.com • (641) 673-9327
Follow on social media:
Facebook