Blog
Fresh Air and Farmhouse Views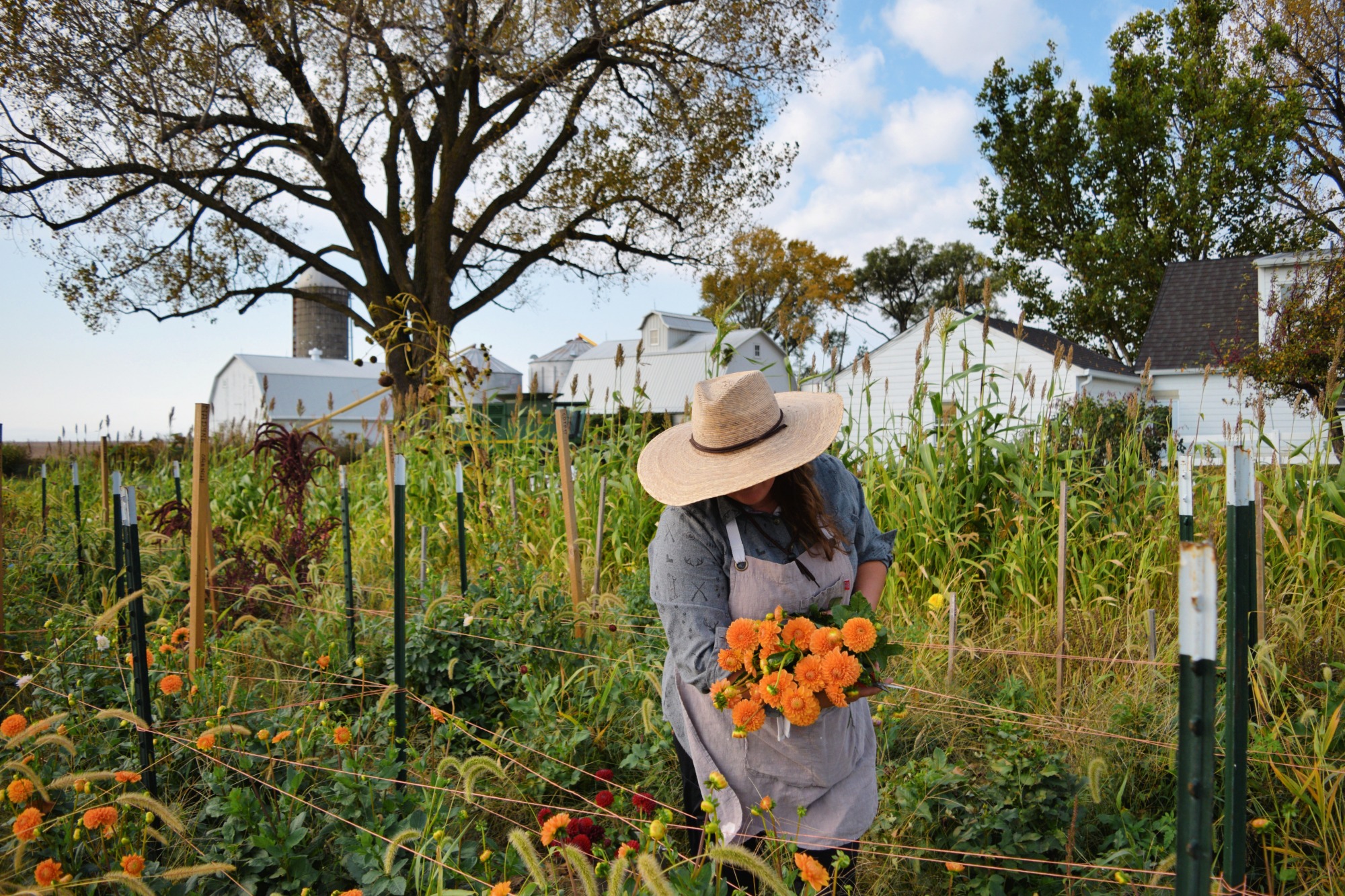 The Barnswallow Cottage Airbnb
Conveniently located off HWY 23 just 10 minutes from the center of Oskaloosa, The Barnswallow Cottage is a private, rural retreat nestled in the Mahaska County countryside.
The charming 1949 farmhouse boasts three bedrooms and two baths, can comfortably accommodate 15 guests, and welcomes visitors of the furry, four-legged variety as well. The dine-in kitchen opens to a back deck perfectly positioned for admiring Iowa sunsets. There's plenty of room to play and roam the grounds—perfect for children, pets, and also monarch butterfly and wildlife enthusiasts. A large living room at the heart of the home offers space to gather for movies and games, curl up with a book, or work at the writing desk.
The cottage is furnished with a uniquely curated blend of family heirlooms, local craftsmanship, and pieces from Meredith's work in Hollywood. The vintage couch, for example, has been in the family since the 1940s, while the loveseat was saved from a movie production. In the kitchen, the cabinetry is original, but the chairs were refinished from a film set and the pie cupboard belonged to Meredith's grandmother, Helen Loynachan. The live-edge wood bench in one bedroom and the magnetic knife board in the kitchen were both crafted by local furniture designer, Jacob Howe.
Cozy quilts drape on flea market finds and antique footboards that have been mounted on the walls. Dried flower wreaths hang next to original artwork and vintage mirrors. Victorian-style headboards are right at home alongside sleek mid-century tables.
What makes The Barnswallow Cottage so special—besides its scenic location—is that its renovation was a labor of local love. While Meredith tackled the wood refinishing with her aunt, Sherrilyn Nikkel, she sourced all renovation materials and work from contractors in and around Mahaska County. "This is a community cottage," says Meredith. "Those who stay here contribute to the lives of those who take care of it." When guests stay, they're not only supporting Barnswallow, but also contributing and investing in local community development.
A Small Business in Bloom
Just north of the cottage is the Barnswallow Flowers & Produce farm. Barnswallow Flowers officially launched in 2018, but Meredith Nunnikhoven and mother Kerrilyn have been growing and selling flowers wholesale and to local buyers for many years. What began as an endeavor to diversify the family farm has grown to include a three-acre, chemical-free produce farm; the fresh-cut flower operation that caters to flower lovers either wanting bouquets or hosting celebratory events like weddings; a newly-planted, six-acre, organic chestnut plot; and expansion into local product development including hot sauces and pepper flakes, relish, jams, and jellies.
Barnswallow also offers a floral CSA (community-supported agriculture) program for bouquet pickup in Mahaska and Marion Counties. Meredith adorns the cottage with seasonal fresh and dried flower arrangements. Sharing the outdoor beauty of the farm gives guests a fresh, sensory experience to enjoy during their stay.
"This is a community cottage. Those who stay here contribute to the lives of those who take care of it." - Meredith Nunnikhoven, Owner
Learn about Barnswallow's story, CSA, and eco-philosophy:
barnswallowflowers.com
Follow on Instagram: @barnswallowflowers