Blog
Chamber Recognizes 2022 Award Winners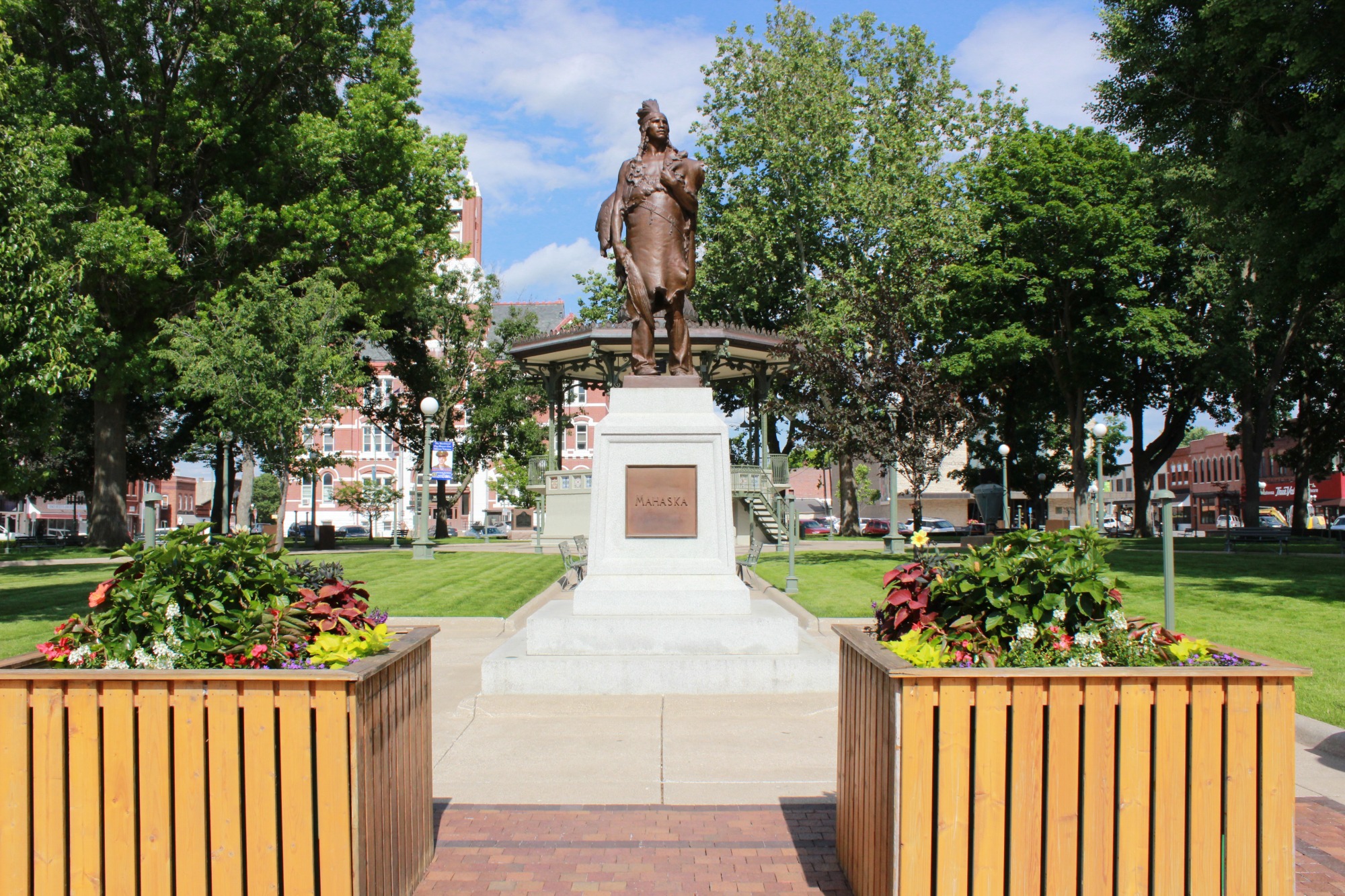 On Monday, January 30, 2023, the Mahaska Chamber and Development Group held the Annual Awards Ceremony and Reception at Wood Iron Grille. 19 individuals were recognized from the community for their accomplishments and service to Oskaloosa.
The following board members were thanked for their service and contribitions to the Chamber Board and our community:
Clayton Spears
Clayton is the store manager at Hy-Vee. He continued to serve on the Chamber Board after Gerad Curry was moved to a different store location. We have always appreciated Hy-Vee support of community events and want to thank Clayton for his service on the Chamber Board.
Andy McGuire
Andy is the executive Director at the George Daily Auditorium. Andy served on the Chamber Board during one of the most unique times – playing a significant role while the Chamber and Mahaska Community Development Group merged in January of 2020 while also helping us get through changes that 2020 brought on – Andy introduced the Chamber to "Zoom" – setting up many of the Chamber Board meetings to help us go virtual when needed. Andy is a part of the tourism and economic impact committees as well as very involved in the arts and culture that takes place in Mahaska County. Andy volunteers much of his time – helping at Eggs & Issues on the soundboard, and volunteering at many Main Street events. Andy served as the Vice Chair for two years because of the merge and served as the President of the Chamber Board. After 5ish+ years, we suppose we will let you have a bit of a break but we know we will continue to see you in the community doing great things.
Jill Ewing
V.P and Branch Manager of TruBank - Member FDIC, has been a part of our organization for 6+ years. Jill was a part of the Mahaska Community Development Group before it merged with the Mahaska Chamber in 2020. Jill then served on the Chamber Board as well as the Executive team for three years as the secretary. Jill has volunteered at many of our events and currently serves as a Chamber Diplomat.
In addition, TruBank sponsors many community events including the music in the downtown park that you hear every day from the Bandstand, Thankful Thursday in the Alley, The Outer Space music series in Oskaloosa, Friday After Five, Mahaska Chamber Golf outing supporting scholarships, and Sweet Corn Serenade to name a few. TruBank is celebrating their 140th Anniversary so be sure to follow them on Facebook to join in on trivia and stay tuned for additional community celebrations.
The Chamber Diplomats are the public relations arm of the Mahaska Chamber. Being the official greeters, they assist in ribbon cuttings, groundbreakings and other recognition activities. The Chamber Diplomats are called on for manpower for special events. They also assist the Chamber Board by calling on existing Chamber members as well as developing and calling on new member prospects. They present the following awards.
The Chamber Diplomats present the ACORN Award to a unique business, having served the area from one to 20 years.
In 1998 several Mahaska County churches came together and found a way to serve neighbors in need within our community by creating a 501©(3) organization called Love INC. Love INC found themselves needing a sustainable funding source to support Love INC of Mahaska County ministries. In the spring of 2021, the fundraising process began to raise the startup costs. Penn Central Mall had the perfect space available in the old Goodwill location. After a true labor of love from many volunteers and God providing the way, this business had their Grand Opening October 28, 2021. They support the local economy by providing a place for the community to donate goods while supporting a new ministry to address other needs in our community. Congratulations to this year's winner of the Acorn Award, Love Inc. Thrift Shoppe!
Each year the Chamber Diplomats present the Old Oak Award to an outstanding, established business of more than 20 years.
This full-service Christian bookstore has been located on the west side of the Oskaloosa city square for the past 37 years. Their mission is to provide resources in helping believers in Christ, and seekers of the truth, grow deeper in their faith as they navigate the storms and joys of this life. Their resources include, but are not limited to, Bibles, study materials and devotionals for children, teens, and adults. They also carry additional church resources, Christian books, home décor, jewelry and greeting cards. They have seen great support from this community and surrounding counties. The outstanding business of which we speak with roots like an Old Oak is Eagle's Nest Christian Book Store.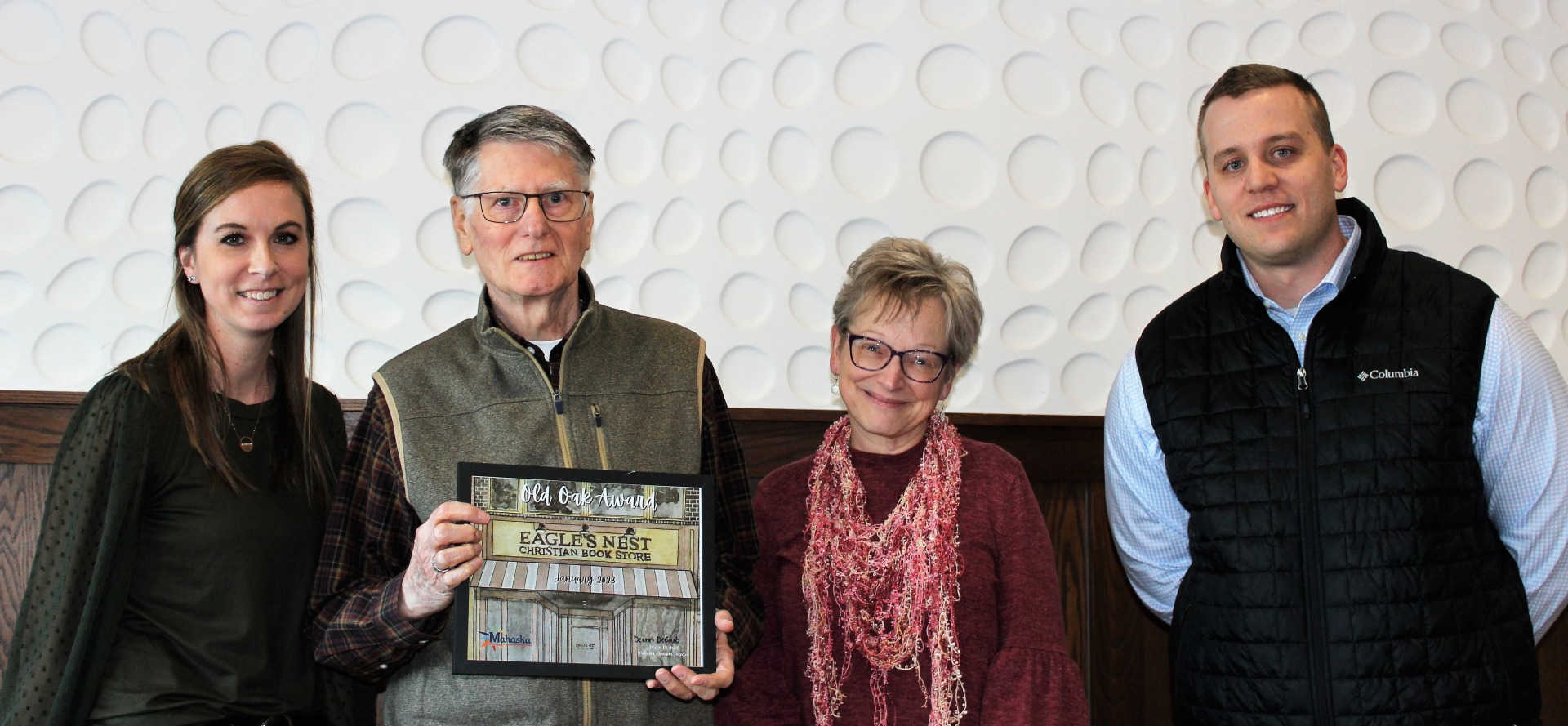 The Golden Dipper and Runner-Up Awards are given each year to the Chamber Diplomats that have attended the most calls.
The Golden Dipper Runner-up and her family have been living in Oskaloosa for the past 16 years. Her devotion to the Diplomats is seen in the fact that she attended 38 of the 54 events and was seen thoroughly enjoying the "star" routine in the Lighted Parade. Her devotion in the community can be seen additionally as a mentor through her church or as a volunteer through AmeriCorps. She is employed by Mahaska Health as the Community Relations Coordinator, building relationships within the community she loves dearly all while bringing knowledge to the community about their services. She truly is devoted to making Oskaloosa a wonderful place to live, work and raise a family. Congratulations Paula Falconer, Golden Dipper Runner-Up.
The 2022 Golden Dipper currently serves as the office manager & customer relationship management administrator for a local accountant firm. Her involvement at the Chamber includes past President of the Diplomats, current Friday After Five Committee, new Chamber Board Director and serves as the Caring Team Leader at Central Church. Her commitment to the Diplomats and the Mahaska Community is very evident in that she attended 45 of the 54 events in 2022 where she (along with her husband Timathy) was instrumental in the major upgrade to the Diplomat Sleigh used in the Christmas Parade. She stated, "I have a heart for serving God and a passion for my community…….making a difference and growing our beautiful community." Congratulations to this year's recipient, Pam Newendorp!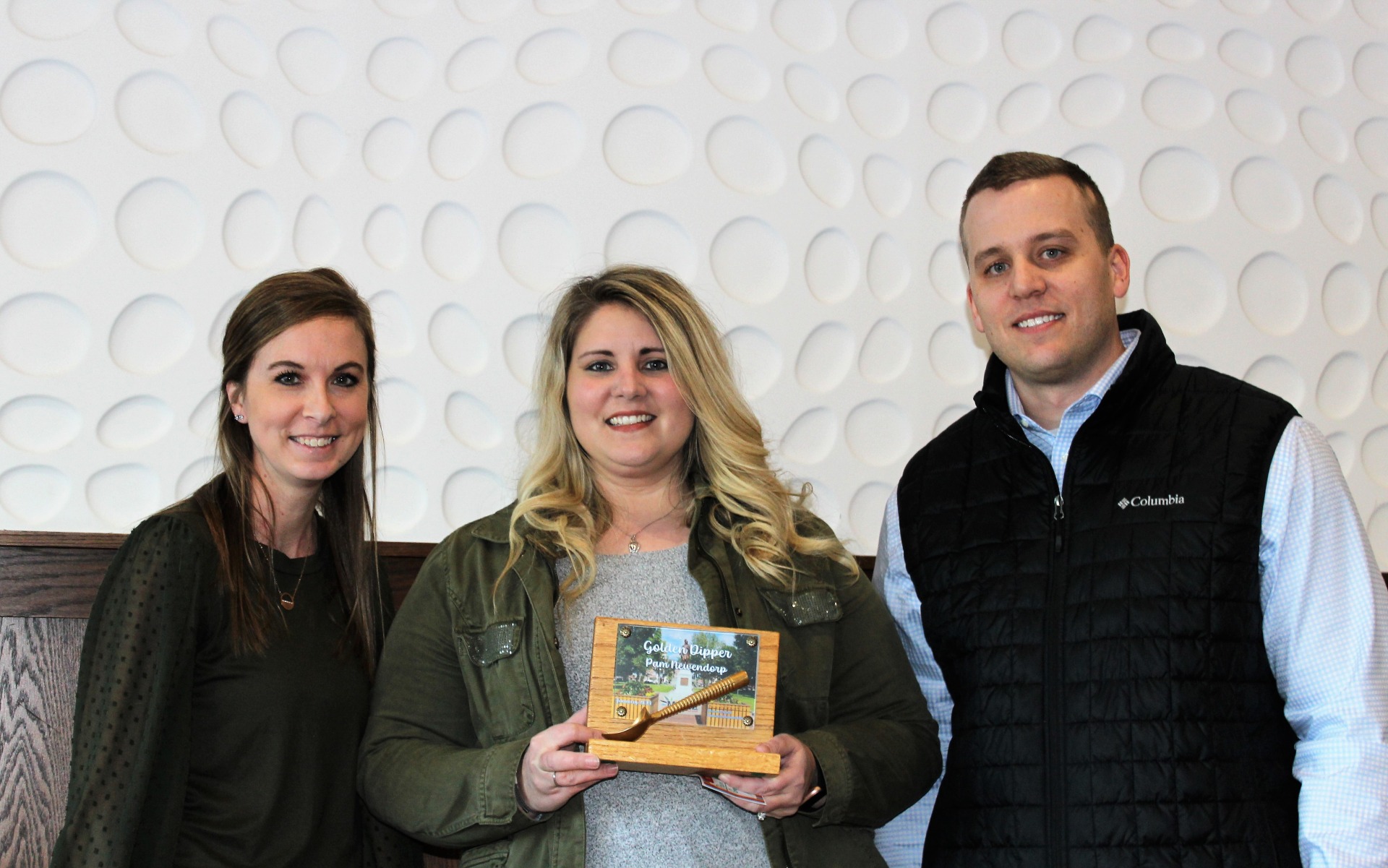 Retail Business of the Year: Hair Designers
This year's Retail Business of the Year is a small-town hair salon but also a boutique. According to their website, this salon is determined to create a tranquil and inviting environment for you to enjoy. Outstanding service and a professional, clean atmosphere are a few of their top priorities. Facials, body treatments, waxing, makeup, lashes, tanning and massages are just a few of their outstanding services. However, in Sept., 2021 they opened a boutique. They strive to keep up with the times and staying fashion forward in this ever changing world. Congratulations to this year's retail business of the year, the Hair Designers Salon, Spa & Boutique.
Service Business of the Year: JC's Johns
"Always do a great job and a part of pretty much all events that happen in downtown Oskaloosa." This is just one of the comments we received for this years' Service Business of the Year. This family owned and operated business has been serving Mahaska County and the surrounding areas since 2008. Their service could be seen at graduations, weddings, private parties, sporting events, concerts or constructions areas. So what is this business you are thinking? Well, this business is here to help you with all of your sanitation needs. They provide the area's cleanest portable restrooms, hands free washing stations and wheelchair accessible units. Congratulations to this years' Service Business of the Year, JC's Johns.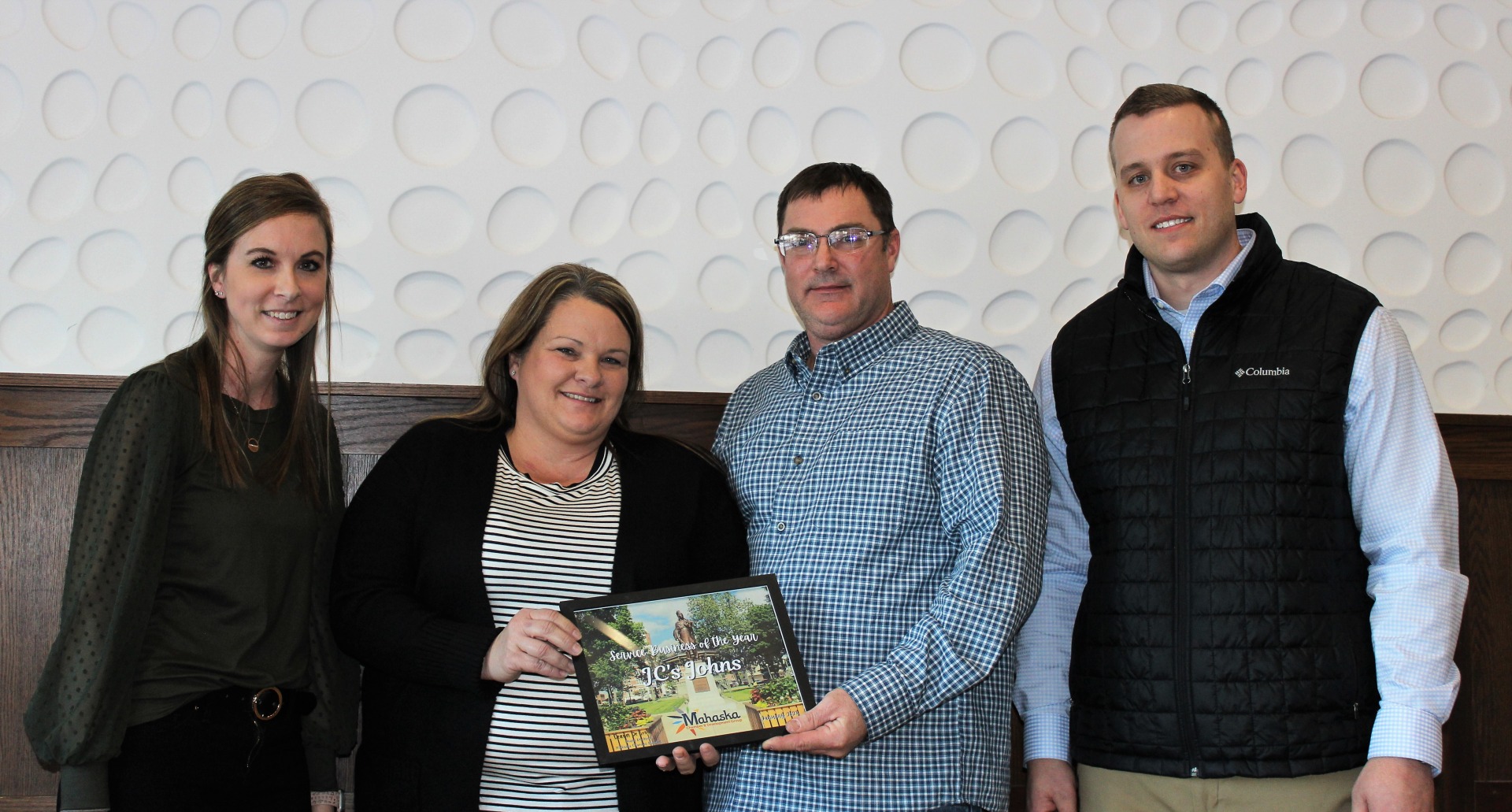 Industry of the Year: MCG
When MCG says "Not Your Ordinary Communication Provider" they mean it. MCG was formed in 2000, somewhat by accident, to help Musco create a connection with customers in other parts of the world. Before long, people in Oskaloosa wanted to take advantage of the fiber network so MCG begin building out the network to serve residents, William Penn, municipal offices, businesses, and to connect area schools - the result was lower costs and better service. Today the MCG team of 70-plus members is still connecting Oskaloosa to the world by expanding broadband service to every corner of Mahaska County. They've opened offices to serve surrounding communities including Indianola, Newton, Ottumwa, Grinnell, Sigourney, New Sharon, and Montezuma.
Money invested in MCG stays in the community. The MCG Team takes an 'extra-ordinary' and personalized approach to serving their communities and customers by providing same-day service and offering hands-on problem solving for customers. MCG is a long-time sponsor of the annual e-Cycling day helping to collect and recycle more than 500,000 pounds of electronic devices and offer residents a place to drop off used batteries daily at MCG offices. MCG Team members actively volunteer for a wide variety of community service opportunities from the Day of Caring to buying overstocked Girl Scout cookies and donating them to hospitals, care centers, and local law enforcement offices. Congratulations to our 2022 Industry of the Year Mahaska Communication Group.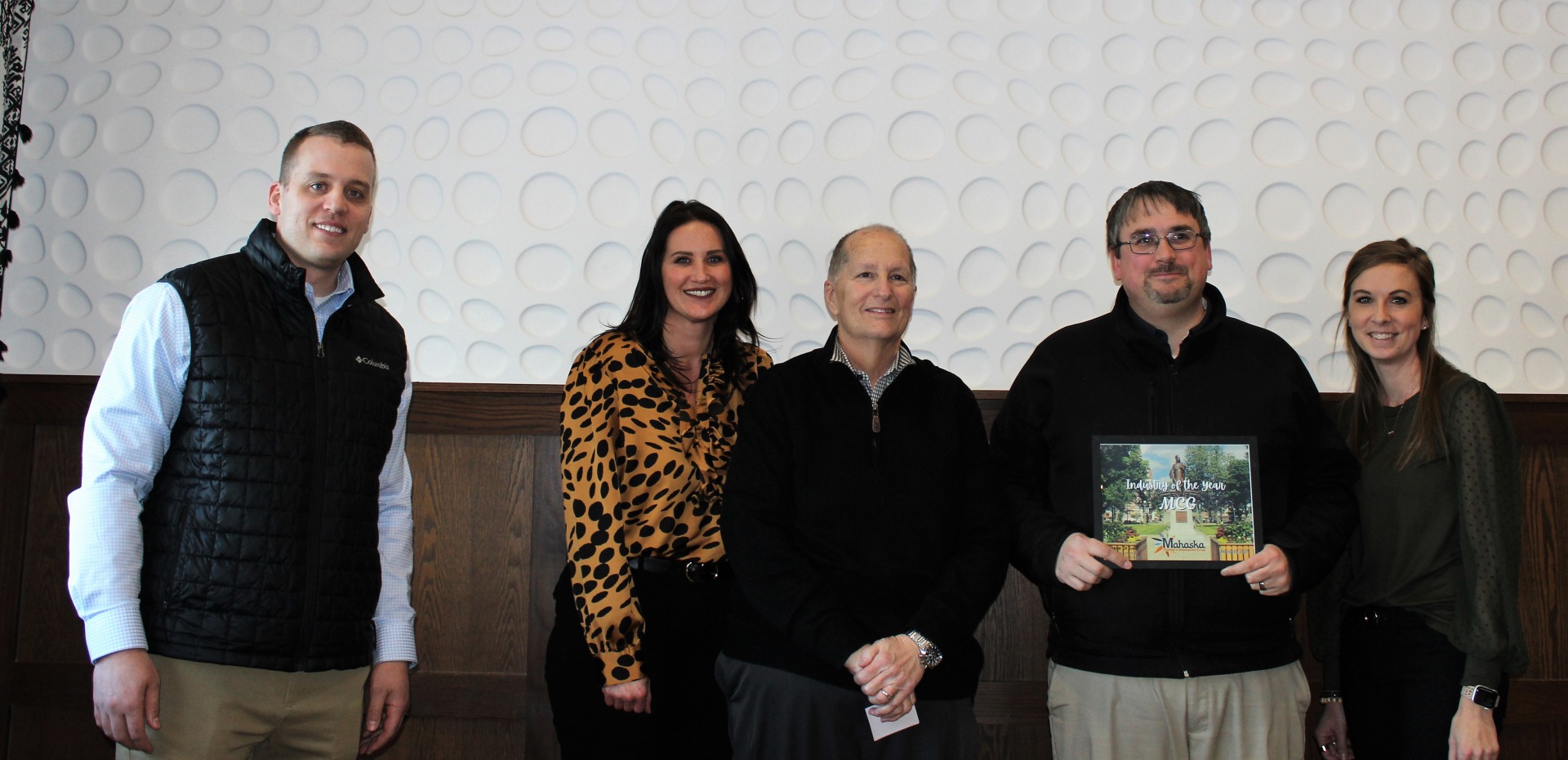 Community Improvement: Fairfield Inn & Suites
The Marriott Fairfield Inn & Suites opened its doors in September 2020 - in the middle of the pandemic - with 76 guest rooms, a meeting space for the community, fitness center, and indoor pool. Marriott is the #1 hotel chain in the world and the 14 team members who work at the Oskaloosa Fairfield are helping our Inn to outperform Marriott's customer service standards in every category. Since it opened, the Fairfield occupancy rate has been 60% which means on an average basis 45 of the 76 rooms are welcoming visitors to the community every day, and while many guests are in Oskaloosa for business or leisure, many are also doing business in surrounding communities but choosing the Oskaloosa for their stay. The Fairfield is a regular host to many of the 177,000+ Lacey Recreation players and spectators. William Penn University is part of the NAIA conference and prior to construction of the Marriott, visiting teams had to seek lodging in other communities due to conference standards. Once the Fairfield opened, visiting teams began staying in Oskaloosa, and the University is land hosting rights to regional basketball, track & field, and many other sporting events. For all of those reasons, we congratulate the Oskaloosa Marriott Fairfield Inn & Suites as this year's Community Improvement award winner.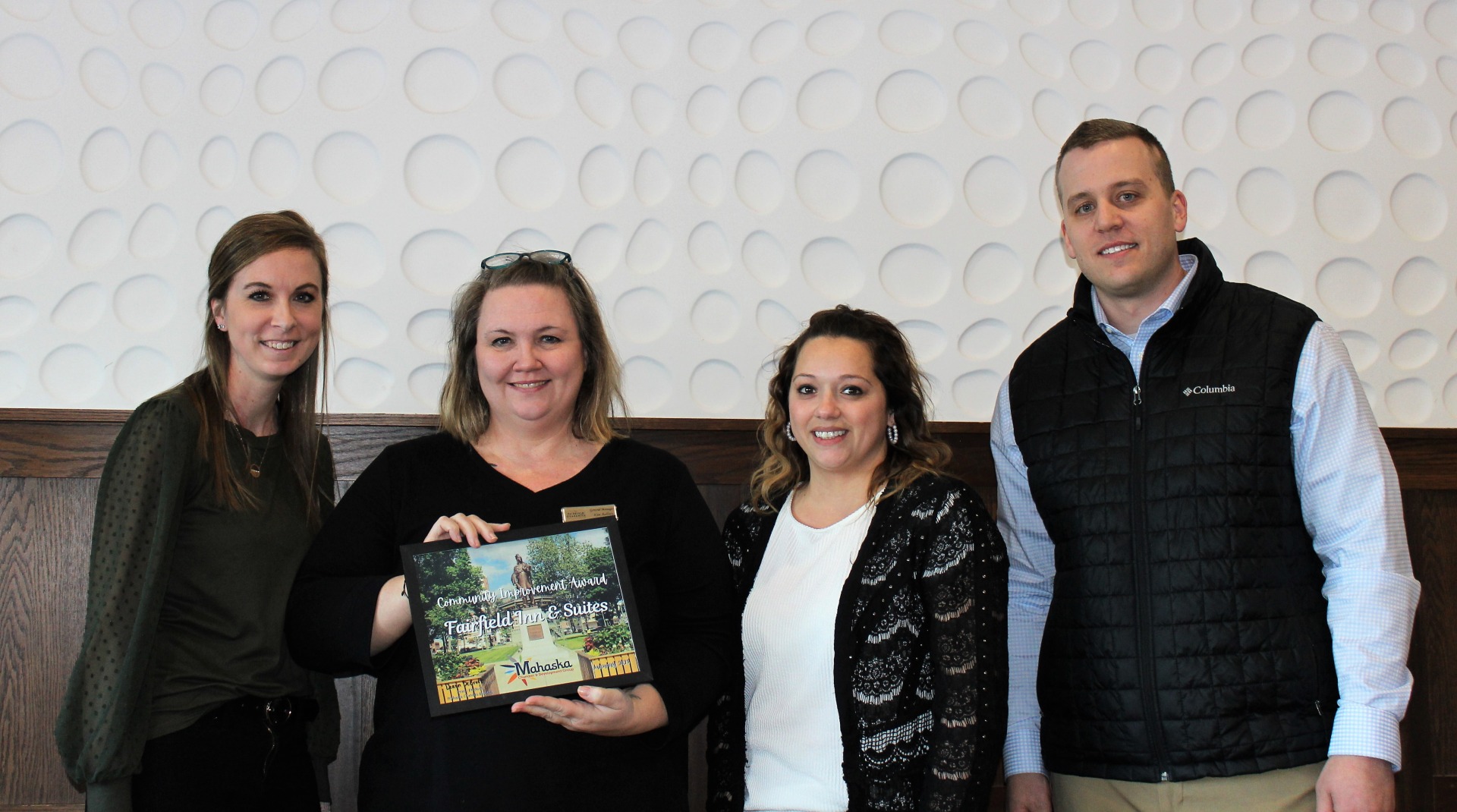 Chuck Russell Historic Preservation: Ann Brouwer
Ann Brouwer's love of history and tradition have made her a champion for preserving and promoting Oskaloosa's unique downtown. First, as the "A" in Alley Kats foursome, in 2015 she became a part of the group that transformed an ugly alley into an inviting and appealing space that showcases Oskaloosa and Mahaska County's rich history. In 2018 she and her husband Cornie then purchased and renovated the adjacent Bridal Dreams building at 115 South Market, which has promoted retail commercial space and residential living in the downtown business district. She stayed with the alley theme and is spearheading the new Trolley Stop Alley project that will attract residents and visitors to view Oskaloosa's distinctive trolley history. And finally, her crown jewel has been her leadership in the Historical Building Marker project that lasted from 2017 to 2022, which recognized the history and influence of 10 historical buildings in Oskaloosa's downtown. The final building was recognized last spring, and it is extremely appropriate that this building was the Book Vault, which at one time had been owned by the venerable Chuck Russell himself. It is therefore with deep gratitude that we give Ann Brouwer this year's Chuck Russell Historic Preservation Award.
Educator of the Year: Kim Gile
This educator from the Oskaloosa High School has a true passion and devotion to her students. She teaches the audio video classes and is at all events including sports, music and theatre – filming for the benefit of families, friends and students. She is also a Student Council sponsor where they have received the outstanding council award many times, even at the national level. As Council sponsor, she is highly involved in the prom, homecoming, parade and other events. She is at work early and stays late! Her dedication to students is evident in the fact that graduates pick her as the 'teacher that influenced you the most'. That award stopped because it was always her! This educator goes above and beyond to make things happen! Congratulations to this year's Educator of the Year, Kim Gile.
Student of the Year: Lawson Morris
This year's Student of the Year is a member of band, orchestra, cross country, soccer, youth group, National Honor Society, theater, and is the treasurer of the executive board on student council. He was selected to be a facilitator for the first ever Mental Health Summit that was held in Washington, DC. Since this visit, this student, along with some additional peers has presented opportunities for the school board to review. In addition, he is sharing with community groups like the Rotary Club. Congratulations to this year's Student of the Year, Lawson Morris.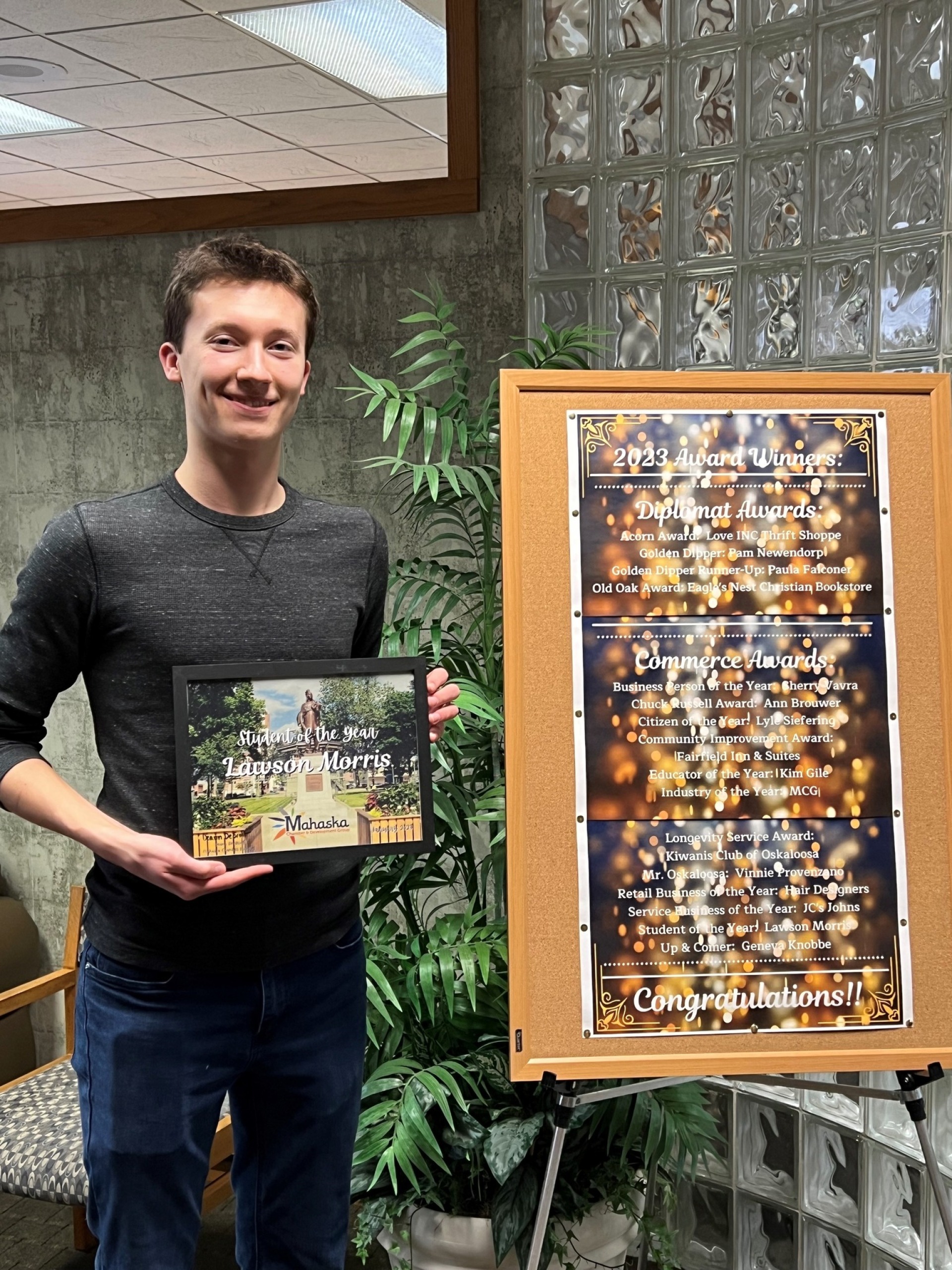 Business Person of the Year: Sherry Vavra
This year's Business Person of the Year was the Executive Director for the Mahaska Community Recreation Foundation for the past 15 years. She just recently left MCRF to help take care of her father in Tennessee. She was a member of the Alley KATDS that established the community staple, the Alley, which is the home to Thankful Thursdays and Super Saturdays. Creating a bond between local businesses and the community in downtown Oskaloosa, preserving our heritage while building our future. A volunteer for seventeen local organizations, including the Chair of the Chamber's tourism committee, she always put the Oskaloosa community first, and wanted to see Oskaloosa grow and be the best place to visit in Iowa. She was a vital part of the economic impact committee, allowing the community to know the value our events provide. Congratulations to this year's Business Person of the Year, Sherry Vavra!
Up & Comer: Geneva Knobbe
This individual is active in many clubs and organizations in the Oskaloosa community. She is currently the president of the Oskaloosa Rotary Club and at 29 years old is one of the youngest you will find, leading this group of business leaders. She volunteers frequently with United Way of Mahaska County and has recently taken over the volunteer program for the school backpack program including middle school this year, in addition to the elementary schools. You may also see this individual helping at the Chamber's Friday After Five events. She always looks for ways to be involved. As an employee of Kraig Ford, she is lending a hand in any charity they support including food baskets at the holidays and coat drives. This up and comer is a rare find! Congratulations to Geneva Knobbe.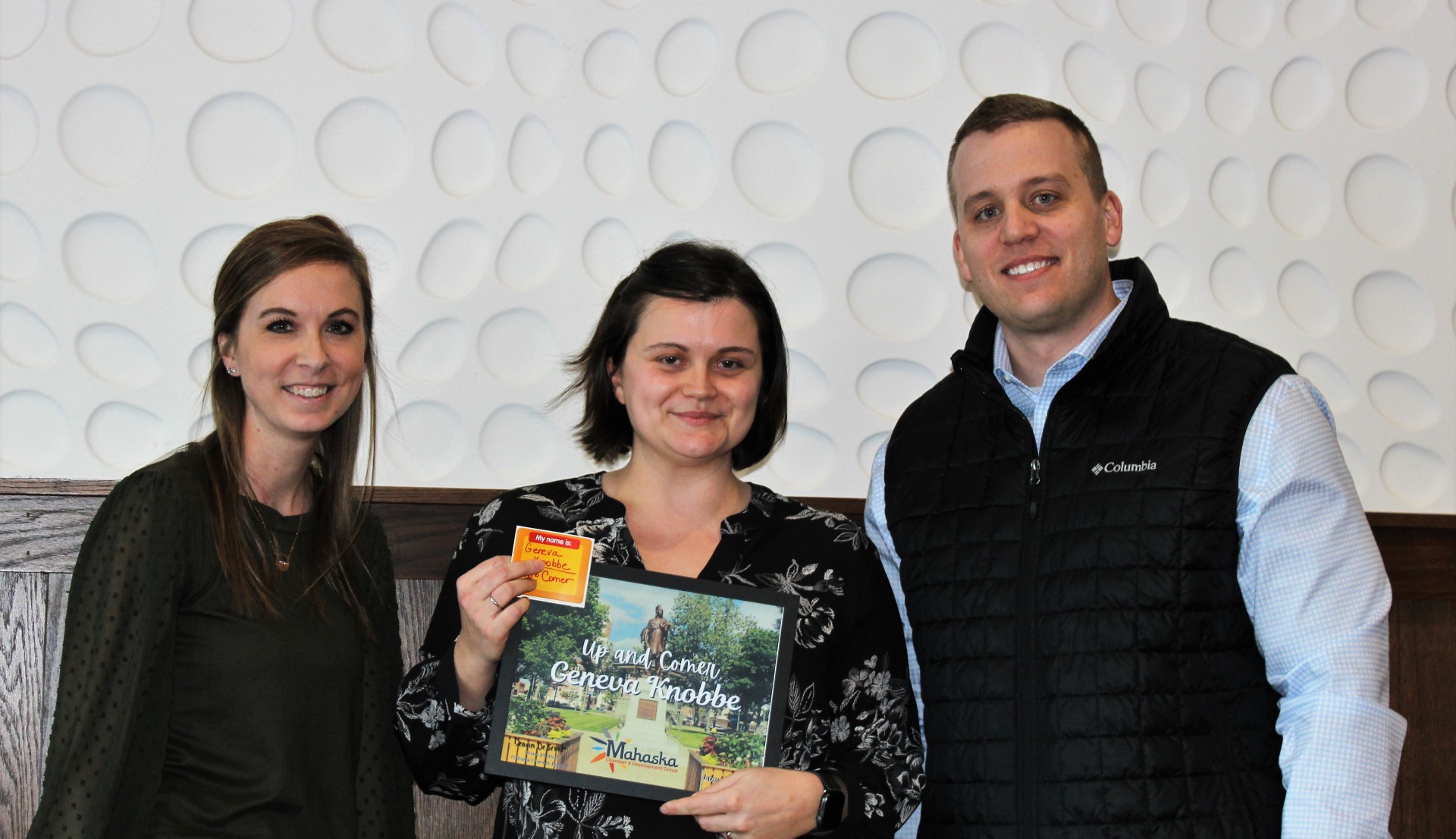 Citizen of the Year: Lyle Siefering
This year's Citizen of the Year started his own real estate business 35 years ago in Oskaloosa. He also purchased two local abstract companies back in 1991 and merged them into one, which still serves Mahaska County today and is essential to the home buying process. Both the real estate and abstract businesses have been part of the downtown Main Street Community for the last 28 years. He's been at the forefront of the revitalization of the downtown square, putting countless resources into the improvement of several downtown buildings. He has been Farmland Broker of the Year in Iowa, state president of the Realtors Land Institute and has also been a prior Oskaloosa citizen of the year recipient. He's a charter member of the Mahaska Ruritan Club and helped start the Oskaloosa Farmers Market. He's served on many local boards over the years, helped multiple startup businesses get off the ground, and continues to help spur on economic development in Oskaloosa, serving on the Chamber's business development committee. He's also raised 6 children in Oskaloosa, all of them graduates from Oskaloosa High School, and will have 4 of his grandchildren graduate from Oskaloosa High School as well. He's attended hundreds of their activities over the years and still actively does. He is the most passionate ISU alum you will find in Oskaloosa and can be spotted in Ames, IA, cheering on his Cyclones, almost as much as Oskaloosa. He's currently enjoying the winter months down in Arizona with his wife, Becky, and was unable to be present to accept this award. His youngest son, Chris, accepted on his behalf. Congratulations to this year's Citizen of the Year, Lyle Siefering!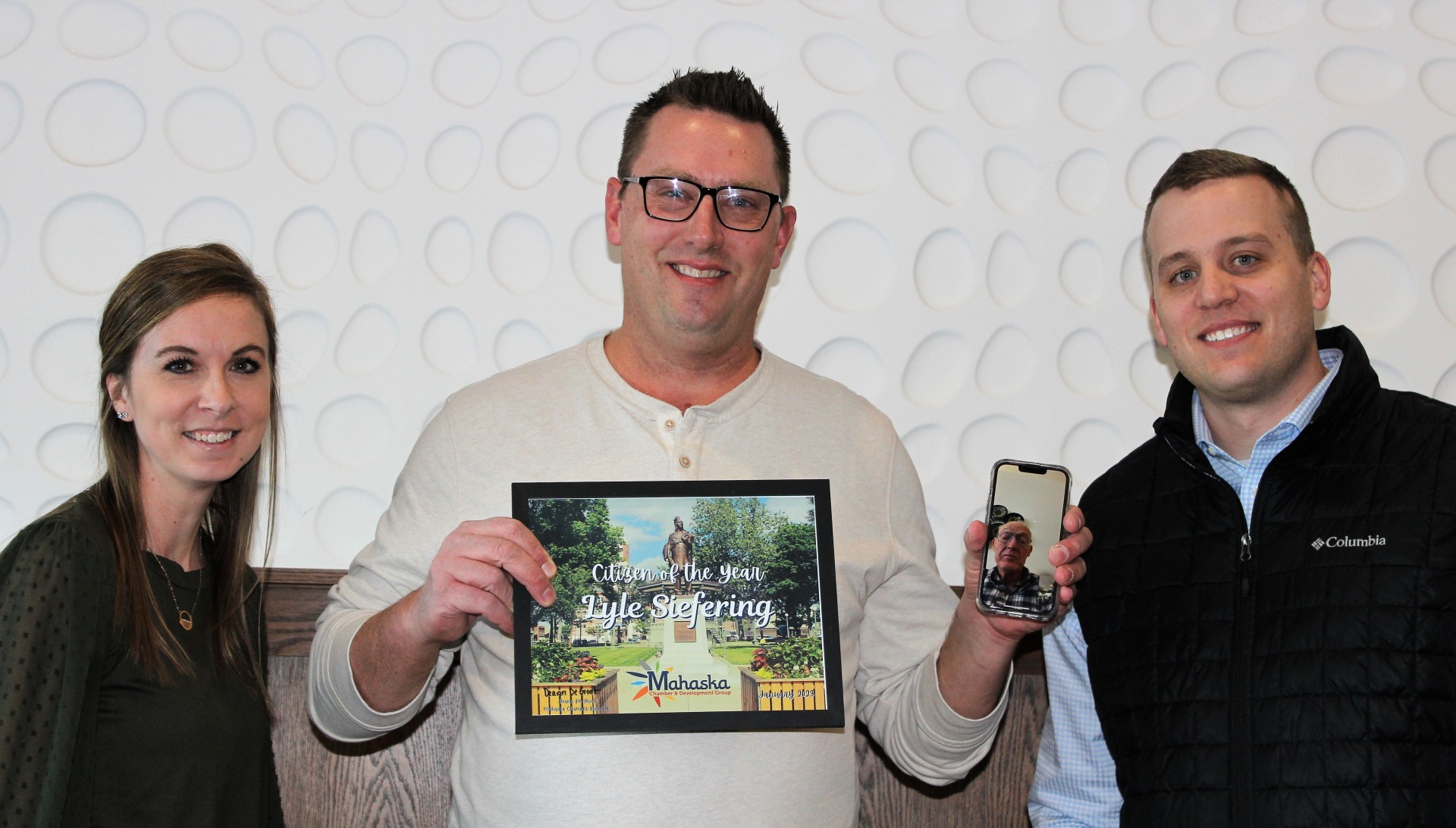 Occasionally we have special awards that can be for various people, organizations, or projects. This year we have two special awards to present.
Longevity Service Club Award: Kiwanis Club of Oskaloosa
The first special award goes to a club that was established in 1921 with a mission of serving children around the world. Perhaps you supported this club by attending their annual potato bar or purchasing a poinsettia during the holiday season. In the fall of 2022, the Kiwanis Club of Oskaloosa disbanded after 101 ½ years of service in Oskaloosa. Their final project, which many are still working on today, is the Edmundson Playground project which to date has raised $554,127. What a great way to serve the children of Mahaska County with this project and THANK YOU to all the members who have given their time and talents to the Kiwanis Club over the many years.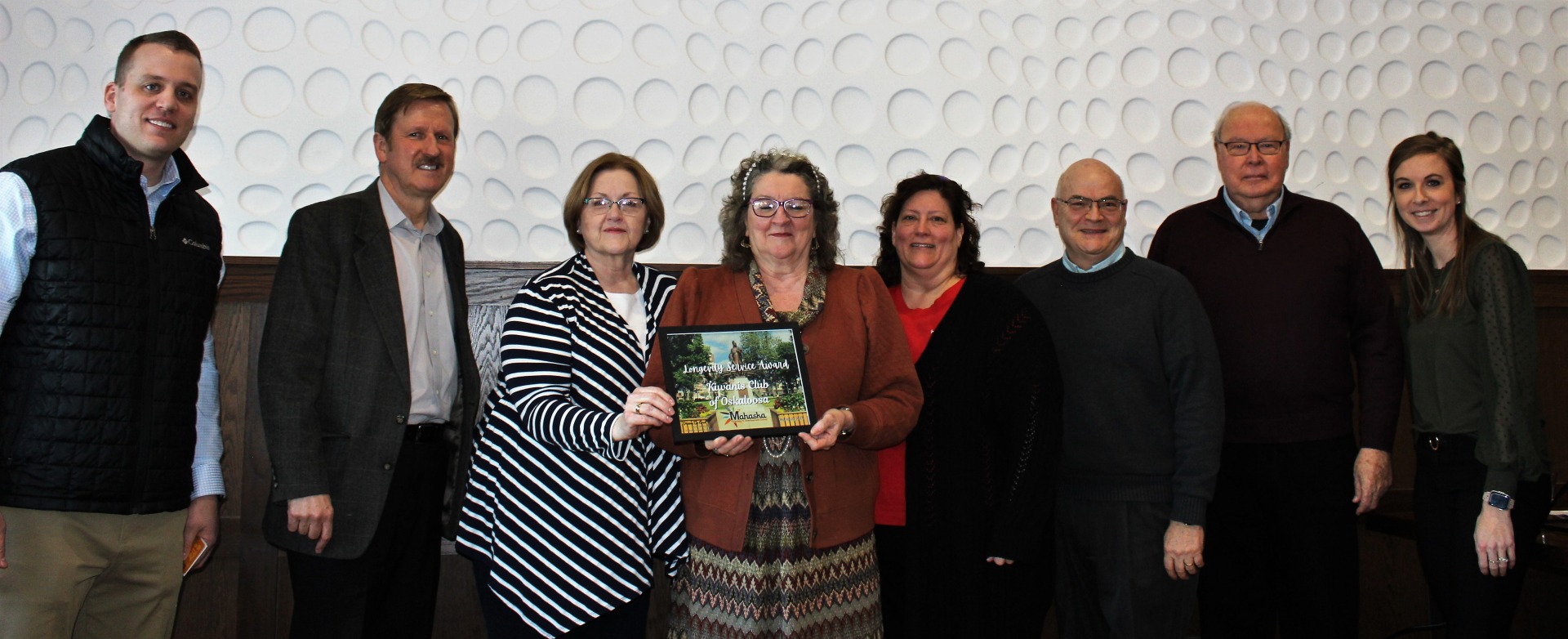 Mr. Oskaloosa
This next special award goes to an individual who you will spot around town with his new, higher quality, $109 iPad. He retired from the Oskaloosa schools system in 2020 after 34 years. Since then, we have spotted this individual literally EVERYWHERE! He is "in the know". At the Chamber office, we like to call this individual the best promoter of Mahaska County – and yes that will include him videoing all events and activities. He is the man behind "Vinman's Movie Therapy Gathering" which is a group of movie fanatics that are looking to have a relaxing night at Penn Centre Theater on a Sunday night, ending the evening with a selfie. Want to know the latest Hy-Vee Deals? Mr. Oskaloosa will know! Curious what is happening on the square tomorrow? Mr. Oskaloosa will know! Congratulations to Vincent Provenzano – or Mr. Oskaloosa!